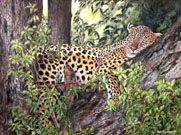 All Artwork Copyright © AR Patricia Franke
Welcome to the official web page of Patricia Franke, an Argentine wildlife painter. Here you will find not only information about the life and works of the artist but a complete gallery of her paintings. The gallery is constantly updated with her most recent paintings.
For any question or suggestion you may have, please don´t hesitate in contacting us through the Contact section.

New artwork available in gallery: "Couple of zebras" and "Siberian couple".